Phat Lip Balm Trio Pack (Tiki, Green Machine, Cherry Bomb)
WHAT IT IS:
Rad's soothing and extremely moisturizing lip balm flavored with the fruity explosion of Black Cherry, Spearmint, and Pina Colada.
WHAT IS IT FORMULATED TO DO?
Phat Lip balm is created using our Rad proprietary process and crafted with the finest all-natural ingredients for a highly moisturizing, quickly absorbing, and long-lasting lip balm. This product is flavored with all-natural Non-GMO flavor oils of Black Cherry and enriched with Virgin Hemp, Coconut Oil, Cocoa Butter, Bees Wax, and Lanolin all of which are known to deeply moisturize and condition dry, cracking lips.
WHAT IS IT FORMULATED WITHOUT?
-Parabens
-Sulfates
-Phthalates
-Harsh Chemicals
-Gluten
-GMOs
-Nut Oils
SUGGESTED USAGE:
-Gently use applicator to smooth product over lips.
-Repeat when desired.
FULL INGREDIENT LIST:
Cocoa Butter, Bees Wax,Unrefined Hempseed Oil, Coconut Oil, Castor Oil,Vegetable Glycerin, Lanolin, Natural Flavor Dark Cherry.
Awesome chapstick!
Great feeling chapstick.. I've tried all 3 in the pack and love them all! The cherry one is SOOO good!
Review
The lip balms are awesome!! They feel great on the lips. It glides on well. Stays for a long time. Great smell. I just love them. Keep up the great work guys and gals!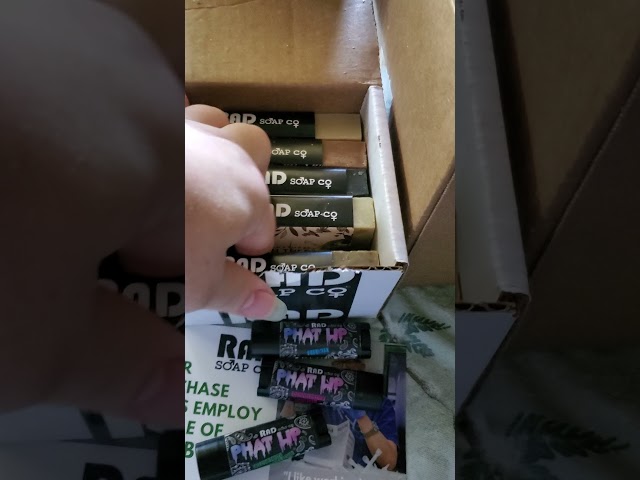 I absolutely loved the soap. Smells great and it lathers really well.
Smooth and great smelling
Glides on smoothly... not waxy. All three smelled great too!
Lip balm
Works very well. So far it works the best for me. Stays on long.